Welcome to the Alberta Professional Planners Institute
We are the face of the planning profession within Alberta, Northwest Territories and Nunavut. We serve the public interest by providing regulation, advocacy, promotion and services for our members.
Planning is a key agent in shaping our communities and leading how we adapt to and manage the physical, economic and social forces that affect our communities.
The  Alberta Professional Planners Institute (APPI) is a professional regulated organization of private and public sector planners practicing in Alberta, the Northwest Territories and Nunavut.
APPI is governed as a public accountable organization with an obligation to serve the public's interest under the Professional and Occupational Associations Registration Act.
What's New!
APPI New 2017/2018 Council
On Thursday April 27, 2017, APPI hosted its 2017 AGM in Calgary. We are pleased to announce the APPI Council for the 2017/2018 term.
Click here for complete details!
APPI Reaches Milestone of 1000 Members!
APPI now has 1000+ members! As a self-regulated profession committed to the public interest, APPI's thriving and growing membership raises the profile of planning and benefits APPI members and the communities in which we all work and live.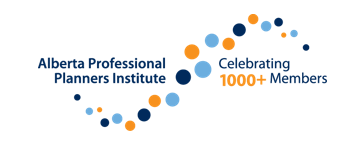 APPI - "A community of excellence supporting excellent communities."
2016 APPI Volunteer Recognition Awards
Outstanding Contribution to the Profession Award
Gary Willson, RPP, MCIP
2016 Volunteer of the Year Award
Claudia Palylyk, RPP, MCIP
Click here for details  Click here for Press Release
2017 APPI Student and Legacy Fund Awards
APPI is pleased to announce that Dr. Sandeep Agrawal, RPP, MCIP, is the recipient of the 2017 APPI Legacy Fund Award.
For more information on these and other APPI awards click here.