Awards and Recognition
Volunteer Recognition Program
APPI is a professional organization that is largely run by volunteers. APPI's Volunteer Recognition Program recognizes individual dedication and contributions to APPI and the planning profession more generally. You have an opportunity to nominate one of your colleagues for the contributions that they have made to the Institute in one of the following categories:
Outstanding Contribution to the Profession Award
This award recognizes long term commitment to the Institute and volunteerism. Nominees must have demonstrated exemplary leadership and have contributed to the Institute in a number of capacities. Nominations are restricted to APPI regulated members who have a minimum of ten years of service.
Volunteer of the Year Award
This award recognizes a significant contribution made in the previous year. This award is open to any member regulated or non-regulated. Nominees must have made an outstanding contribution to the Institute serving on an APPI Committee or initiative, or alternatively representing APPI on a specific project or initiative at the national level.
New this Year! Exceptional Mentor Award
Have you have recently completed or are you in the midst of completing the RPP certification process and want to recognize and celebrate the contribution of your mentor in supporting your professional development and career?  Please consider nominating a RPP member or member(s) who have gone above and beyond in their support of your journey through the certification process in any capacity.
2017 APPI Volunteer Recognition Awards
APPI Council Service Awards
Outgoing Past President/Gavel Award and Council Service Award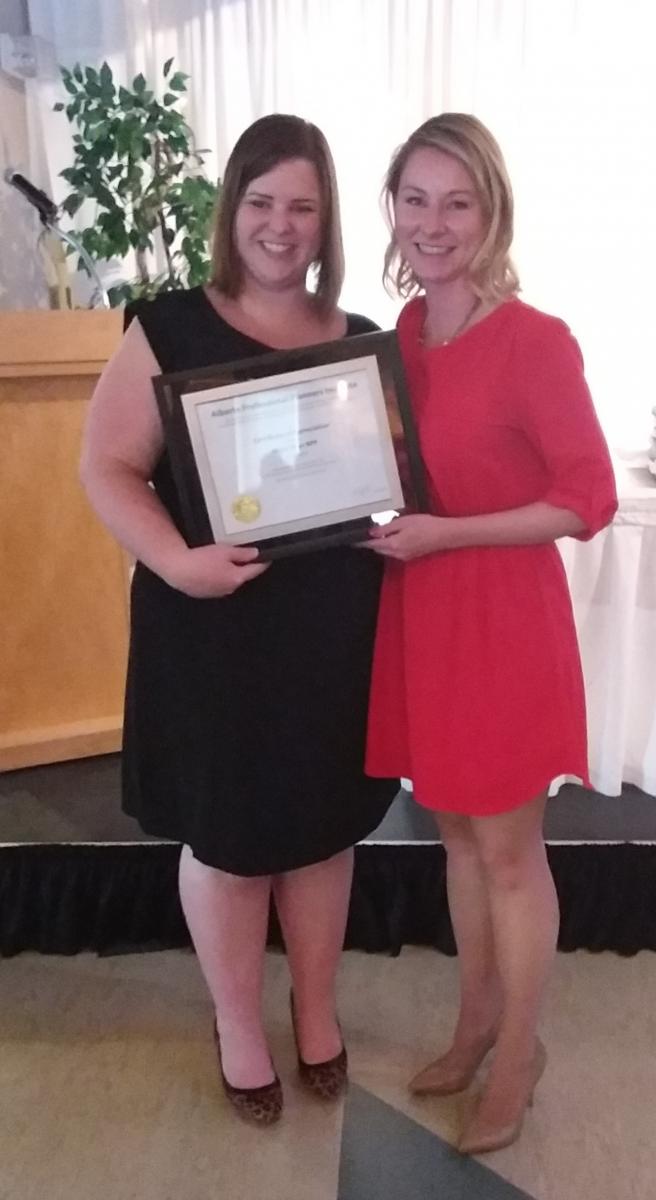 Erin O'Neill APPI President and Misty Sklar APPI Past President

Jamie Doyle was not in attendance.
Linda Wood Edwards, APPI Public Member
2017 Volunteer of the Year Award
Connor Smith
Click here for details

2017 Exceptional Mentor Awards

Jeff Chase, RPP
Lenore Mitchell, RPP
Brad Schultz, RPP
Click here for details

2016 Volunteer Listing
Click here for details
APPI Call for Volunteers!
Central Region Events Committe - APPI is seeking members who are interested in committing themselves to organize and execute events in the Red Deer and surrounding area with APPI Administration. Reply to the APPI office by noon on Thursday, June 14 by emailing [email protected].
Translation Services for the Federation of Calgary Communities - We are looking planners in Alberta that speak one of these four languages and who would be willing to vet the already translated documents. These documents are urban planning cue cards. Languages are Korean, Punjabi, Triginya and Farsi. Please send an email with your interest to [email protected].
PLAN North West goes Paperless - Environmentally Sound and Saving Money
Effective January 1, 2018 future issues will be delivered electronically via email.  If you would prefer to continue receiving PLAN North West in hard copy, please email [email protected].
PLAN North West Call for Submissions
PLAN North West invites interested authors to submit journal articles for consideration in an upcoming special issue on alternative methods of transportation.  Articles can be academic or general interest, a case study, involve research or a plan.  Please contact [email protected] and one  of our editorial board members will contact you promptly to discuss it.