Awards and Recognition
APPI Legacy Award

The Alberta Centennial Conference Legacy Fund was established in 2005. The fund provides financial assistance to APPI members interested in attending and presenting planning-based information at a national or international conference, or for those engaged in research of emerging practices and innovation in the advancement for excellence in planning.
2019 Recipient
APPI is pleased to announce that Amanda-Brea Watson of Dillon Consulting Limited is the recipient of the 2019 APPI Legacy Fund Award. Amanda-Brea will utilizing the award to attend and make a presentation at the 2019 CIP Conference in Ottawa. 
2018 Recipient
Rachelle Trovato of Parkland County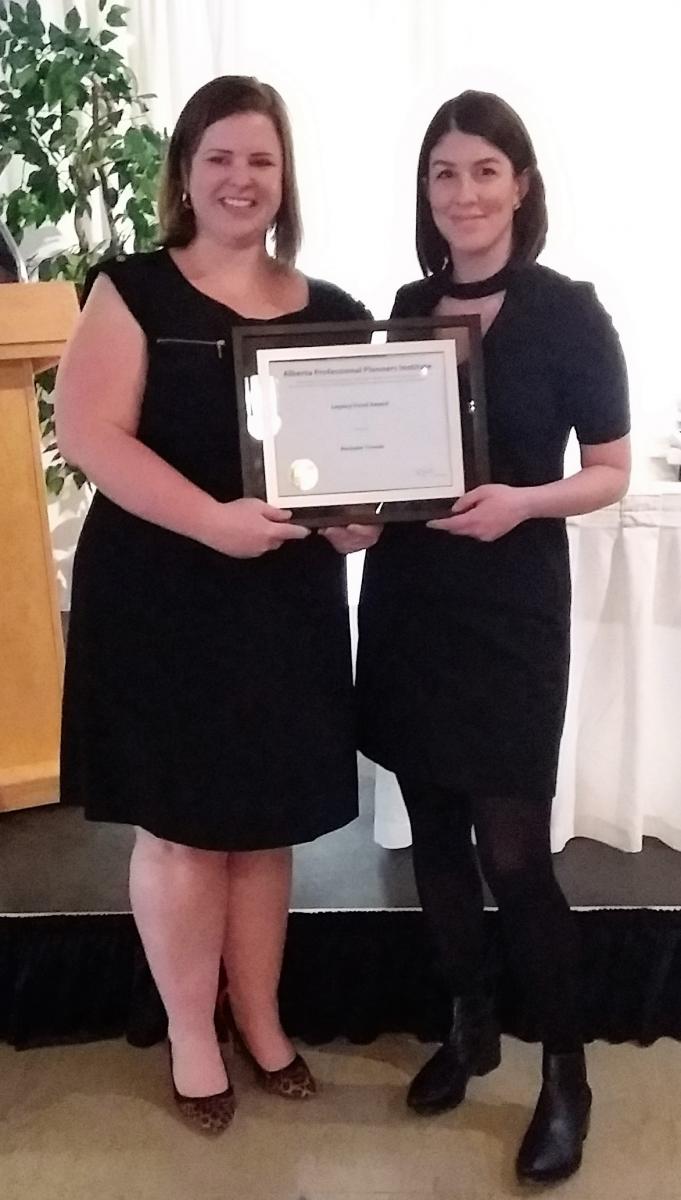 Erin O'Neill, APPI President and Rachelle Trovato
New heritage certificate program offered by University of Calgary

To apply for the Built and Landscape Heritage Certificate, students must submit an application and all supporting materials by September 1st.

Click here for registration and program information.
Volunteers required for consideration as APPI nominees to the Calgary Planning Commission (CPC) and Calgary Urban Design Review Panel
If you are a Registered Professional Planner (RPP) and interested in being considered as one of APPI's non-binding nominations to serve in one of these capacities, please send an email to the APPI office confirming your interest and attach both a cover letter and a personal resume of no more than two single-sided pages by 3:00 PM on Thursday  August 29, 2019. 

APPI 2019 Conference
Sponsorship Program is now Available!
PLAN North West
The Summer 2019, Issue 5 is now available, click here.
PLAN NW invites planners who are members of APPI as well those who are not, to submit articles or concepts for articles, for consideration in upcoming issues of this planning publication. Click here for submission information.