Awards and Recognition
APPI Legacy Award

The Alberta Centennial Conference Legacy Fund was established in 2005. The fund provides financial assistance to APPI members interested in attending and presenting planning-based information at a national or international conference, or for those engaged in research of emerging practices and innovation in the advancement for excellence in planning.
2018 Recipient
APPI is pleased to announce that Ms. Rachelle Trovato of Parkland County is the recipient of the 2018 APPI Legacy Fund Award. Ms. Trovato will utilizing the award to attend and make a presentation at the 2018 CIP Conference in Winnipeg. 
Decisions to accelerate the phase out of coal, the new Edmonton Metropolitan Region Growth Plan, and challenges of being a rural community in an urbanizing world has caused Parkland County to rethink its future growth.  Ms. Trovato will be part of a panel presenting on Parkland County's Growth Study and their unique approach to growth management in a rural area.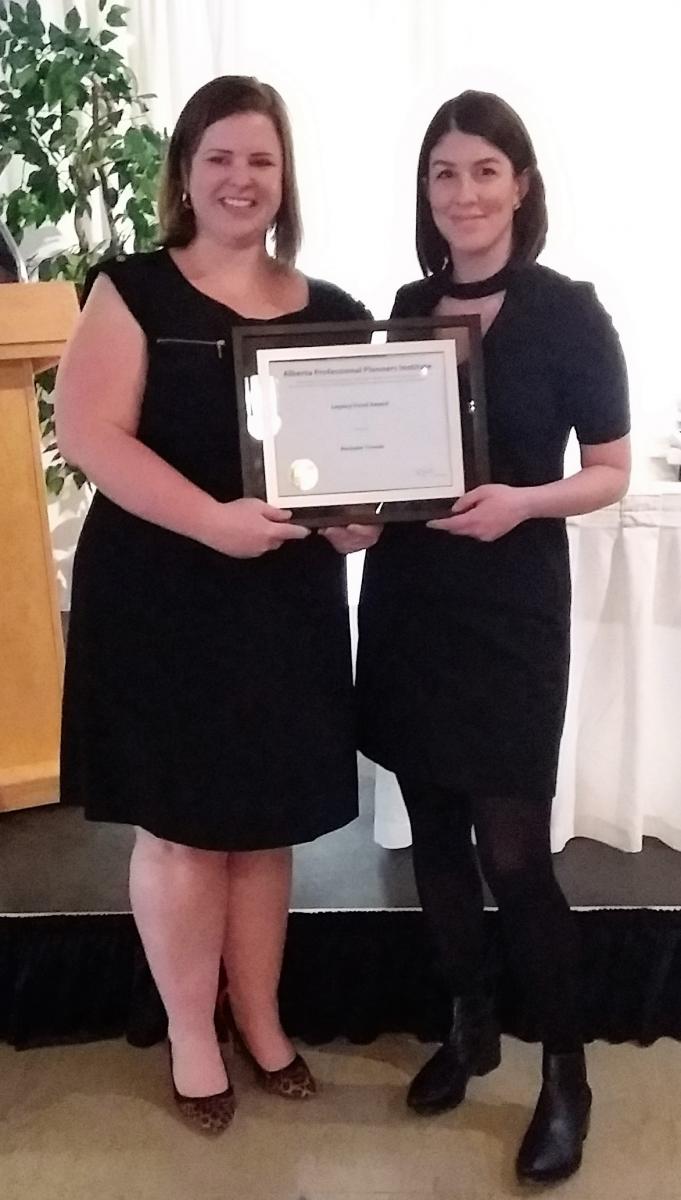 Erin O'Neill, APPI President and Rachelle Trovato
APPI Call for Volunteers!
Central Region Events Committe - APPI is seeking members who are interested in committing themselves to organize and execute events in the Red Deer and surrounding area with APPI Administration. Reply to the APPI office by noon on Thursday, June 14 by emailing [email protected].
Translation Services for the Federation of Calgary Communities - We are looking planners in Alberta that speak one of these four languages and who would be willing to vet the already translated documents. These documents are urban planning cue cards. Languages are Korean, Punjabi, Triginya and Farsi. Please send an email with your interest to [email protected].
PLAN North West goes Paperless - Environmentally Sound and Saving Money
Effective January 1, 2018 future issues will be delivered electronically via email.  If you would prefer to continue receiving PLAN North West in hard copy, please email [email protected].
PLAN North West Call for Submissions
PLAN North West invites interested authors to submit journal articles for consideration in an upcoming special issue on alternative methods of transportation.  Articles can be academic or general interest, a case study, involve research or a plan.  Please contact [email protected] and one  of our editorial board members will contact you promptly to discuss it.