Awards and Recognition
APPI Legacy Award

The Alberta Centennial Conference Legacy Fund was established in 2005. The fund provides financial assistance to APPI members interested in attending and presenting planning-based information at a national or international conference, or for those engaged in research of emerging practices and innovation in the advancement for excellence in planning.
Click here for 2019 Legacy Fund Award submission form. Click here for the notice.
2018 Recipient
APPI is pleased to announce that Ms. Rachelle Trovato of Parkland County is the recipient of the 2018 APPI Legacy Fund Award. Ms. Trovato will utilizing the award to attend and make a presentation at the 2018 CIP Conference in Winnipeg. 
Decisions to accelerate the phase out of coal, the new Edmonton Metropolitan Region Growth Plan, and challenges of being a rural community in an urbanizing world has caused Parkland County to rethink its future growth.  Ms. Trovato will be part of a panel presenting on Parkland County's Growth Study and their unique approach to growth management in a rural area.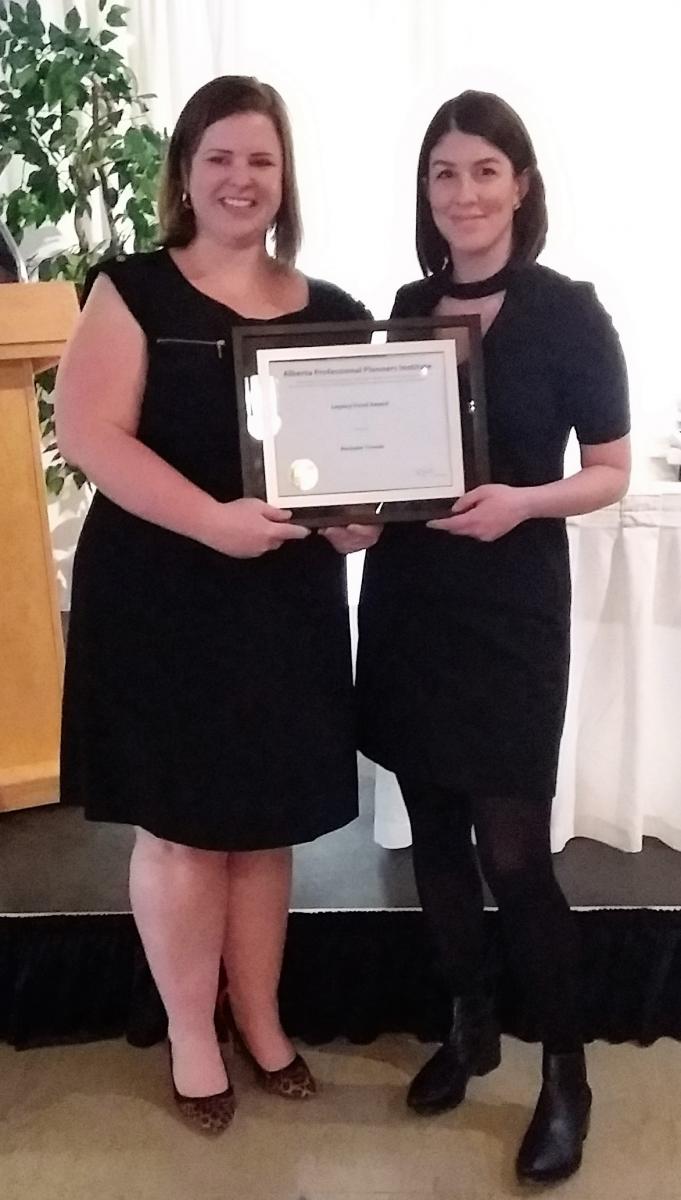 Erin O'Neill, APPI President and Rachelle Trovato
APPI 2019 Council Election
The deadline for receipt of your postal ballot or electronic ballot is April 22, 2019.
For the first time, APPI is offering the choice to vote for Councillors via postal ballot OR electronic ballot.  Click here for information on how to vote.
APPI 2019 Volunteer Awards and Appreciation Celebration
On the evening of Friday  April 26, 2019, APPI will host the 2019 Volunteer Awards and Appreciation Celebration at the Charbar Restaurant Inc. in Calgary.
Invitations have been issued to those being honoured at the event, however any members who would like to join the Institute at this event are welcome to purchase tickets at a rate of $50.00 (plus GST). As space may be limited, please register online and purchase a ticket.