Awards and Recognition
APPI Legacy Award

The Alberta Centennial Conference Legacy Fund was established in 2005. The fund provides financial assistance to APPI members interested in attending and presenting planning-based information at a national or international conference, or for those engaged in research of emerging practices and innovation in the advancement for excellence in planning.
Click here for 2019 Legacy Fund Award submission form. Click here for the notice.
2018 Recipient
APPI is pleased to announce that Ms. Rachelle Trovato of Parkland County is the recipient of the 2018 APPI Legacy Fund Award. Ms. Trovato will utilizing the award to attend and make a presentation at the 2018 CIP Conference in Winnipeg. 
Decisions to accelerate the phase out of coal, the new Edmonton Metropolitan Region Growth Plan, and challenges of being a rural community in an urbanizing world has caused Parkland County to rethink its future growth.  Ms. Trovato will be part of a panel presenting on Parkland County's Growth Study and their unique approach to growth management in a rural area.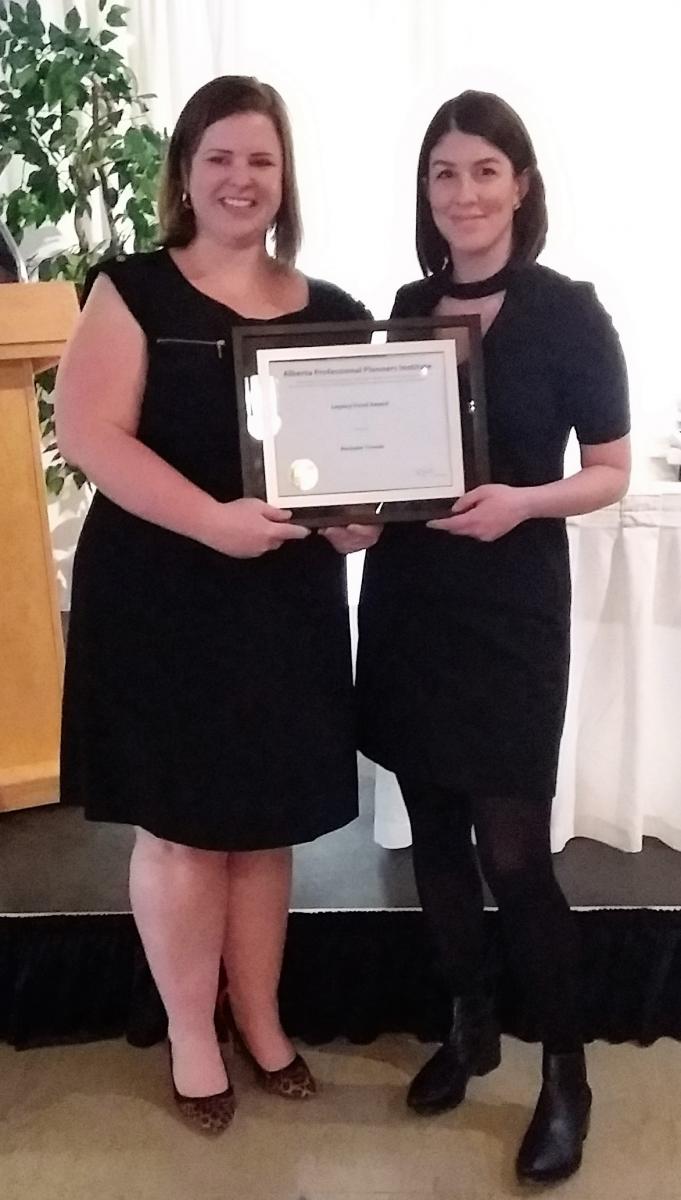 Erin O'Neill, APPI President and Rachelle Trovato
SAVE THE DATE!
APPI Annual General Meeting, Education Sessions and the Volunteer Awards and Appreciation Celebration
Friday, April 26, 2019 in Calgary Details to be announced.

2019 APPI Conference Call for Proposals
The 2019 APPI Conference Organizing Committee invites you to submit your proposal for innovative, creative, and inspiring presentations that reflect on the theme of Celebrate Strength.
Please submit proposal in PDF format via email to [email protected] by 12:00 PM March 7, 2019.
Click here for complete details.
APPI Call for Volunteer Recognition Nomination
s
APPI's Volunteer Recognition Program recognizes individual dedication and contributions to APPI and the planning profession more generally. You have an opportunity to nominate one of your colleagues for the contributions that they have made to the Institute.
Click here for the categories and nominee application forms.