Regulated Members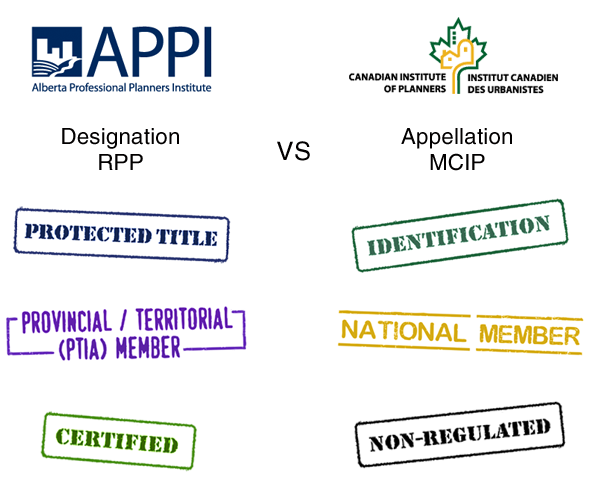 Regulated Members
APPI Regulated members include both Candidate and RPP members.  Regulated members of APPI have rights and responsibilities of membership defined in both the Alberta Professional Planner Regulation and APPI's bylaws, including compliance with APPI's Code of Professional Conduct and continuous professional learning program. All regulated members must meet requirement for professional competence via education and experience and therefore, provide assurance to Albertans and the Government of Alberta that the public interest is being protected.
Registered Professional Planner Designation (RPP) and How to use it
APPI has the exclusive authority to grant the Registered Professional Planner (RPP) professional designation and protected title to those members who have completed the certification process and relevant standards for ethical and professional competency. The RPP credential is an assurance of quality for employers who want to attract the most professional, skilled and competent candidates. Registered Planners bring added value to their employers and their communities.
APPI encourages all RPP certified members to use the RPP professional designation proudly alongside their names, in business signatures on business cards, in email signatures and on professional social media sites such as LinkedIn.  This further promotes the planning profession and raises the credibility and profile of Registered Professional Planners (RPP's). The former title of Alberta Community Planner (ACP), no longer exists in legislation or APPI's bylaws, and should not be utilized by APPI's members.
Member Canadian Institute of Planners (MCIP)
MCIP is an appellation conveying membership in the non-regulated Canadian Institute of Planners, and is restricted to those RPP members of APPI.
Notes to Candidates and Subscribers
APPI Candidate and Subscriber are not certified members of APPI and therefore cannot use the RPP designation or the MCIP (member of the Canadian Institute of Planners) appellation.  APPI Candidate members and Subscribers may not utilize "APPI Candidate" or "APPI Subscriber" with their names in a business signature, as there is no such designation or appellation.
APPI Call for Volunteers!
APPI's Volunteer Recognition Program recognizes individual dedication and contributions to APPI and the planning profession more generally. You have an opportunity to nominate one of your colleagues for the contributions that they have made to the Institute.
Click here for the categories and nominee application forms.
Volunteers Wanted for the PSB's Professional Examination
The PSB administers Professional Examination examination to 150+ candidates per year. In order to maintain the rigour of the Professional Examination, we wish to add additional questions to our questions bank to include in future sittings. We are looking for volunteers who are RPPs/MCIPs in good standing (for 7+ years) to provide support for this initiative. The PSB thanks those who responded to our call for volunteers in 2017 and looks forward to working with another group of volunteers over the coming months.
In order to achieve a sustainable question bank for years to come, the PSB and its Professional Education and Examination Committee would like to confirm your interest and advise you of the next steps in the process. To add to our existing question bank, we are asking volunteers to confirm their interest in contributing to this initiative by emailing Nzinga Brown at [email protected].
PLAN North West goes Paperless - Environmentally Sound and Saving Money
Effective January 1, 2018 future issues will be delivered electronically via email.  If you would prefer to continue receiving PLAN North West in hard copy, please email [email protected]
PLAN North West Call for Submissions
PLAN North West invites interested authors to submit journal articles for consideration in an upcoming special issue on alternative methods of transportation.  Articles can be academic or general interest, a case study, involve research or a plan.  Please contact [email protected] and one  of our editorial board members will contact you promptly to discuss it.