Regulated Members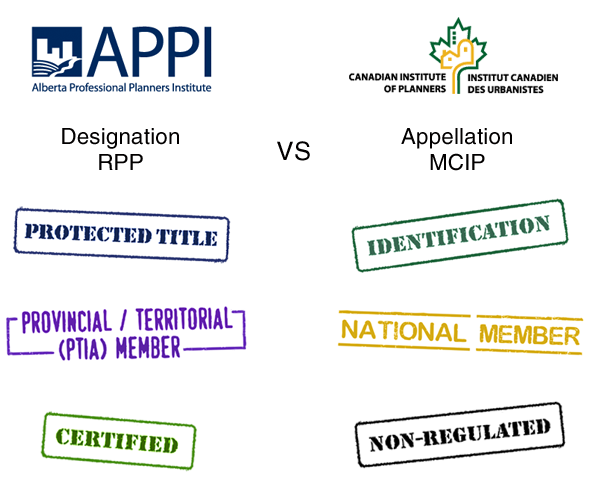 Regulated Members
APPI Regulated members include both Candidate and RPP members.  Regulated members of APPI have rights and responsibilities of membership defined in both the Alberta Professional Planner Regulation and APPI's bylaws, including compliance with APPI's Professional Code of Practice and continuous professional learning program. All regulated members must meet requirement for professional competence via education and experience and therefore, provide assurance to Albertans and the Government of Alberta that the public interest is being protected.
Registered Professional Planner Designation (RPP) and How to use it
APPI has the exclusive authority to grant the Registered Professional Planner (RPP) professional designation and protected title to those members who have completed the certification process and relevant standards for ethical and professional competency. The RPP credential is an assurance of quality for employers who want to attract the most professional, skilled and competent candidates. Registered Planners bring added value to their employers and their communities.
APPI encourages all RPP certified members to use the RPP professional designation proudly alongside their names, in business signatures on business cards, in email signatures and on professional social media sites such as LinkedIn.  This further promotes the planning profession and raises the credibility and profile of Registered Professional Planners (RPP's). The former title of Alberta Community Planner (ACP), no longer exists in legislation or APPI's bylaws, and should not be utilized by APPI's members.
Member Canadian Institute of Planners (MCIP)
MCIP is an appellation conveying membership in the non-regulated Canadian Institute of Planners, and is restricted to those RPP members of APPI.
Notes to Candidates and Subscribers
APPI Candidate and Subscriber are not certified members of APPI and therefore cannot use the RPP designation or the MCIP (member of the Canadian Institute of Planners) appellation.  APPI Candidate members and Subscribers may not utilize "APPI Candidate" or "APPI Subscriber" with their names in a business signature, as there is no such designation or appellation.
APPI hosts free Webinars and Virtual Coffee Breaks!
Join your peers for Virtual Coffee Breaks via GoTo Meeting. Webinars are posted as confirmed via GoTo Webinar. Check out the details and register online here.
Request for Volunteers - PSB Advisory Group on Indigenous Planning
The Professional Education and Examination Committee of the Professional Standards Board for the Planning Profession in Canada (PSB) is looking for a 3-7 qualified volunteers from across the country to serve on an Advisory Group to review content it has developed related to Indigenous Planning for its Professional Examination for the certification of Registered Professional Planners/Licensed Professional Planners in Canada, including Examination questions and Study Guide materials.
The work would involve independent review of the materials and 1-3 meetings with the group within the next 3-6 months to discuss feedback on the materials. Members of the Advisory Group have significant expertise in Indigenous Planning and may also be part of Indigenous communities. The Advisory Group may be called upon for future consultation as well.
Please send any questions or interest in participating to [email protected]
PLAN North West
The Winter 2020, Issue 6 is now available, click here.
PLAN NW invites planners who are members of APPI as well those who are not, to submit articles or concepts for articles, for consideration in upcoming issues of this planning publication. Click here for submission information.