Regulated Members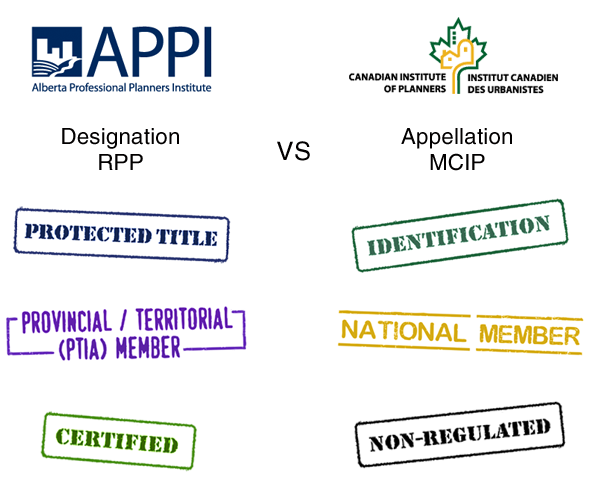 Regulated Members
APPI Regulated members include both Candidate and RPP members.  Regulated members of APPI have rights and responsibilities of membership defined in both the Alberta Professional Planner Regulation and APPI's bylaws, including compliance with APPI's Professional Code of Practice and continuous professional learning program. All regulated members must meet requirement for professional competence via education and experience and therefore, provide assurance to Albertans and the Government of Alberta that the public interest is being protected.
Registered Professional Planner Designation (RPP) and How to use it
APPI has the exclusive authority to grant the Registered Professional Planner (RPP) professional designation and protected title to those members who have completed the certification process and relevant standards for ethical and professional competency. The RPP credential is an assurance of quality for employers who want to attract the most professional, skilled and competent candidates. Registered Planners bring added value to their employers and their communities.
APPI encourages all RPP certified members to use the RPP professional designation proudly alongside their names, in business signatures on business cards, in email signatures and on professional social media sites such as LinkedIn.  This further promotes the planning profession and raises the credibility and profile of Registered Professional Planners (RPP's). The former title of Alberta Community Planner (ACP), no longer exists in legislation or APPI's bylaws, and should not be utilized by APPI's members.
Member Canadian Institute of Planners (MCIP)
MCIP is an appellation conveying membership in the non-regulated Canadian Institute of Planners, and is restricted to those RPP members of APPI.
Notes to Candidates and Subscribers
APPI Candidate and Subscriber are not certified members of APPI and therefore cannot use the RPP designation or the MCIP (member of the Canadian Institute of Planners) appellation.  APPI Candidate members and Subscribers may not utilize "APPI Candidate" or "APPI Subscriber" with their names in a business signature, as there is no such designation or appellation.
New heritage certificate program offered by University of Calgary

To apply for the Built and Landscape Heritage Certificate, students must submit an application and all supporting materials by September 1st.

Click here for registration and program information.
Volunteers required for consideration as APPI nominees to the Calgary Planning Commission (CPC) and Calgary Urban Design Review Panel
If you are a Registered Professional Planner (RPP) and interested in being considered as one of APPI's non-binding nominations to serve in one of these capacities, please send an email to the APPI office confirming your interest and attach both a cover letter and a personal resume of no more than two single-sided pages by 3:00 PM on Thursday  August 29, 2019. 

APPI 2019 Conference
Sponsorship Program is now Available!
PLAN North West
The Summer 2019, Issue 5 is now available, click here.
PLAN NW invites planners who are members of APPI as well those who are not, to submit articles or concepts for articles, for consideration in upcoming issues of this planning publication. Click here for submission information.